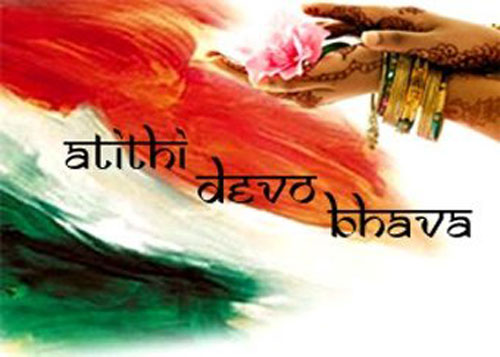 As I read and experience the effects of colonization & decolonizing yoga, a few things come up for me. I realize that for the most part, I am unaffected by who practices yoga because I come from a place of knowing that yoga is for everyone – it is a universal teaching. At the same time, I realize that I can say, without a sense of 'overt pride', that Indian culture has been largely giving, especially to 'guests' – where there is a treatment of guests as gods 'atithi devo bhava'…. However, as I pause to see how that sentiment has been abused through the generations and when I notice how the culture of wisdom, of Hindu culture and/or yoga, is often treated as a product/service then it is painful and I do get affected.
I think what attracts Indian students to learning from western teachers is the gloss & shine of a well-presented (well-packaged) systematic approach whereas in India, the practices and mode of delivery are usually very earthy, raw, unpolished and in a state of chaotic order. We do have a few schools where the curriculum is structured and ordered, but many schools have taken to unregulated methods to 'just teach' – (sometimes at the risk of being unethical or even half-baked knowledge). So, the structure & aesthetics are a big lure. Just looking at instagram at well-sculpted, lycra covered bodies demonstrating, splits, hard-cut abs and twists that one usually doesn't see in Indian bodies (because Indian bodies have a slightly different physique, naturally speaking.)
Yet, the lure exists. To get a degree from Oxford is a matter of prestige as compared to studying at an Indian institution, even if it is Nalanda. And the parallels exist even with teacher trainings and experiential programs. I agree that I prefer the structure in wester curricula, but I do appreciate learning with academic rigor as well – and that is the Indian in me speaking.
However, the financial bias of big dollar transactions for Indian students to pay to learn from yoga teachers in the west is often a major road block – exclusive, expensive and well, sometimes humiliating. I often wonder at the lack of resources for these institutions in the western world who have so much of researched yoga education to offer – researched education that can really help Indian yogis and yoga teachers to elevate their practice & teaching style, understanding etc.. I wonder because there is so much that Indian teachers can reabsorb & learn back – especially after such open-hearted giving to the west, it is now difficult to get anything in return from them – not even at a subsidized cost. Would it be a step towards decolonization if I, as an Indian teacher, would be allowed to access what fellow yoga teachers in the west have to teach and share from their experiences, without have to struggle with the cost of paying to learn back?
I shall share at this point, one such organisation, (without naming them, though), who responded to me so openly that I was taken aback at his generosity. I had shared that it would be difficult for me to travel to the US or Europe in the near future, but that I really wanted to understand and learn how his organization taught yoga the way they did. He didn't think twice about sharing his entire teaching manual with me. His generosity stumped me.
This is a real situation, the exclusivity experienced by many Indian teachers who hold back or simply disregard the opportunity because of the financial exclusion and lack of access to yoga – even if it is repackaged 🙂 ❤
What would it take to really shift the power balance of cultural appropriation in yoga? To give back some of what we have received? Would it really be that hard to support yoga teachers and the yoga community back in India? .. especially if they stand to gain a little of the privilege a certain section of the western world have gained from yoga itself?
This isn't a vilification – it is as much an eye-opener for me as I stand to make a conscious choice about what makes me a yogi, a teacher of grounded choice-making.
---
This blog is a part of a very unique yoga challenge led by my dear friend and fellow yogi, Susanna Barkataki – the Dare to Discuss Yoga Challenge. Both of us feel quite deeply about cultural appropriation and bring an authentic purpose to shine through constructive discussion, dialogue and education to make people (yogis & non-yogis) aware – to 'lessen the appropriation and up the honor', in Susanna's words. In support of the challenge and the work, I shall be blogging my introspection and reflection here to share the conversation and build the cumulative effect.